Events
September 15-20, 2010
Seminar on the project IGCP 540"Gold-bearing hydrothermal fluids of orogenic deposits" during joint conferences on the Asian Current Research on Fluid Inclusions" (ACROFI III) and on Thermobarogeochemistry (TBGXIV).
Novosibirsk, Russia
---
September 15-18, 2010
International Conference"Geoevents, Geological Heritage, and the Role of the IGCP" Caravaca de la Cruz, Spain
http://www.ugr.es/~mlamolda/congresos/geoevents
Second Circular (PDF)
---
September 2-10, 2010
XIV International Symposium on Placer and Weathered Rock Deposits (PWR-2010), (participation of the IGCP project 514)
Novosibirsk, Russia
http://acrofi.igm.nsc.ru/
http://pwr.igm.nsc.ru
---
SEPTEMBER 22-25, 2008
Special section "Fluids of orogenic gold deposits" within the XIII International Conference on Thermobarogeochemistry and IV APIFIS, IGCP project 540 "Gold-bearing hydrothermal fluids of orogenic deposits", Moscow.
Second circular (PDF)
Conference Report
Materials of tne Conference
Abstracts of the session (PDF, 578kb)
---
JUNE 26-28, 2008
International Conference "Development of Early Paleozoic biodiversity: role of biotic and abiotic factors and event correlation" with a post-conference field excursion on the Ordovician-Silurian sections in the Gorny Altai (South of West Siberia), IGCP project 503 "Ordovician Palaegeography and Palaeoclimate", Moscow.
First circular
Second circular
---
AUGUST 21-24, 2006
Sessions of the IGCP projects 479, 486,502 during the 12-th Quadrennial IAGOD Symposium 2006, Moscow
---
AUGUST 21-24, 2006
Sessions of the IGCP project 514"Fluvial palaeosystems: evolution and mineral deposits" during 12-th Guadrennial Iagod Symposium 2006, Moscow
---
AUGUST 5-8, 2006
International Symposium of the IGCP Project "Ordovician Palaeogeography and Palaeoclimate", Novosibirsk
1-st Circular (.doc, 301kb) Open
---
AUGUST 20-24, 2005
Third International Symposium of IGCP-476 "Monsoon Evolution and Tectonic-Climate linkage in Asia", Vladivostok
3-st Circular (.pdf, 114kb) open
Abstracts (.pdf, 904kb) open
---
AUGUST 22-25, 2005
The Sixth Baltic Stratigraphical Conference / IGCP Meetings (projects: 491, 499, 503), St-Petersburg.
A Field Guide for geological excursion on Cambrian and Ordovician of St-Petersburg Region: open (.pdf, 3mb).
---
AUGUST 22-25, 2005
IGCP 491 Meeting "Middle Palaeozoic Vertebrates of Lavrussia: relationships with Siberia, Kazakhstan, Asia and Gondwana", Saint-Petersburg.
Circular of the Conference (.rtf, 464kb) open
---
JULY 25-AUGUST 5, 2005
International workshop and field excursions, IGCP project 480 " Structural and Tectonic Correlations across the Central Asia Orogenic Collage: Implications for Continental Growth and Intracontinental Deformation", Irkutsk
Circular (.rtf, 2.73mb) open
---
JULY 25 - AUGUST 09, 2005
International Conference "Devonian Terrestrial and Marine Environments: from continent to shelf",
Novosibirsk
Joint meeting of the IGCP 499"Evolution of Ecosystems and Climate in the Devonian" and the IUGS Subcommission on Devonian Stratigraphy.
1-st Circular of the Conference (.pdf) open
---
MAY 30-JUNE 5, 2005
IGCP-464,Continental Shelves during the Last Glacial Cycle-Fifth (final) Annual Conference, Saint-Petersburg
1-st Circular of the Conference (.rtf, 5.16mb) open
---
SEPTEMBER 24 - 27 2004
International Conference «Quaternary and Contemporaneity Ecology: Nature and Man»
The Соnference will be held on board of a steamer , route: Volgograd-Astrakhan-Volgograd with stops for examining the geological profiles of quaternary deposits.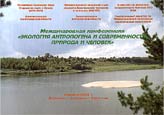 The Conference is a joint venture of : RAS Earth Science Department, Intarnational Academy of Ecology? Man and Nature Protection Sciences, RAS Commission for Quaternary Research, Russian National Committee for IGCP, Volgograd and Astrakhan Regions Administration.
The Conference Program is composed of presentations being chosen on a competitive basis. Deadline for submitting report materials is April the 1-st. 2004.
Organizing Committee: Leonov Yury G. - Co-Chairman, Academician-Secretary, Earth Sciences Department, RAS,
Denisov Genrikh A.- Co-Chairman, Vice-President of IAESS,
Lavrushin Yury A. - Deputy Chairman, Chairman of the RAS Commission for Quaternary Research,
Zaitsev Georgy Ev.- Deputy Chairman, General Director, Holding Company "PromStroyThechnology"
Chistyakova Irina A. - Secretary -Scientist, GIN RAS
Khoreva Ida M.- Secretary-Scientist, GIN RAS
Contacts:
Lavrushin Yu.A.
Tel.: +7 (095) 230-81-14
E-mail: lavrushin@ginras.ru
Chistyakova Irina A.
Tel.: +7 (095) 230-81-12
Khoreva Ida M.
Tel.: +7(095) 230-81-88

---
AUGUST 2 - 12 2004
Conference "URALIDES - 2004" and fieldtrip in the frame of the International Geoscience Programme (IGCP),
project 453 "Modern and Ancient Orogens" will take place in the southern Urals of Bashkiria

Organizers:
Victor Puchkov, Institute of Geology, Ufimian Science Center, RAS, Ufa, Russia,
Dennis Brown, Instituto de Ciencias de la Tierra, Barcelona, Spain
For more information address:
http://www.anrb.ru/geol/Uralides/index.htm,
http://www.ija.csic.es/gt/ural
Resonance: IGCP 453 co-leader's letter (.rtf, 2mb). open

Dates